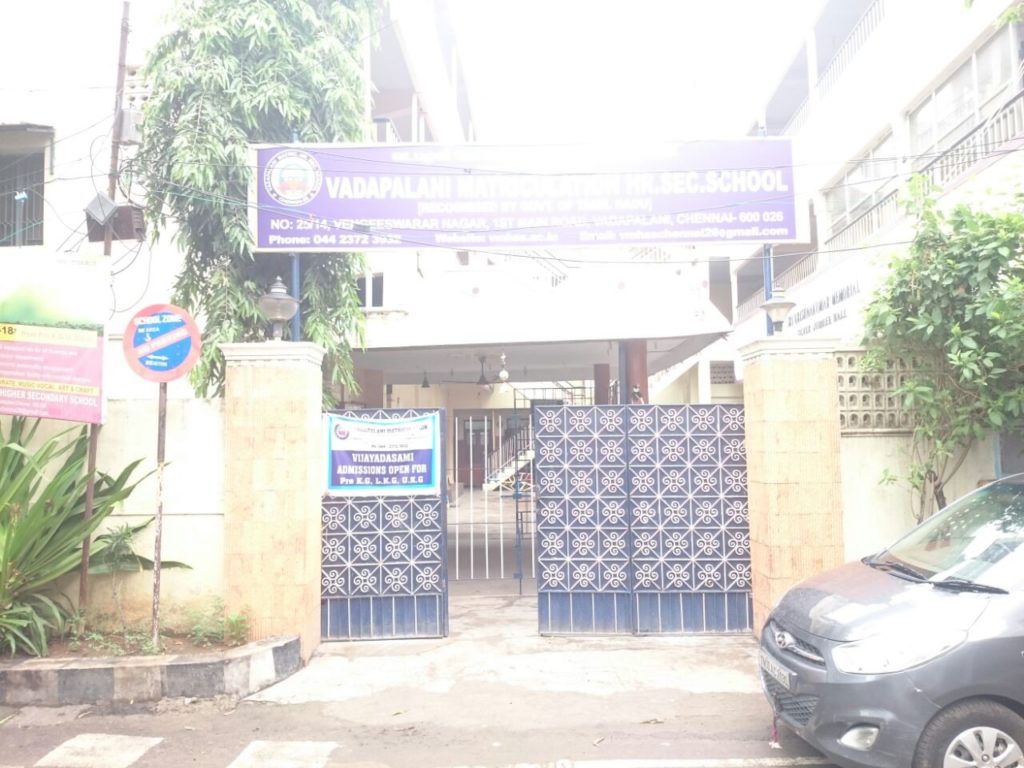 SKILLS FOR TODAY, TOMORROW - Preparing Students for a world they will create.
Vadapalani Matriculation Higher Secondary School was established in 1964 and is proud to step into 50th Golden Jubilee Year of successful service. Always known for 100 % results, the students of class X & XII has time and again brought honors & laurels to the prestigious institution by their meritorious performance. Found in the year 1964, VMHSS was formerly known as Vadapalani Senior Secondary School and is being managed by Vadapalani Educational Society. In 1996, it was converted into Matriculation Higher Secondary School following the Matriculation Higher Secondary pattern.
Our Sustained services in the educational field has earned wide appreciation from the parents and the public alike and we look forward to render greater measures of educational assistance in the years ahead. With our vast Experience, expanding organization, increasing staff and latest educational instruments, we take personal interest in the progress of every student entrusted to our care and we spare no pains to help them realize the best in them. Vadapalani Matriculation Higher secondary school stands out as a premier Educational Institution offering all round holistic Education.
Vadapalani Matriculation Higher Secondary School Students are engaged in a rigorous course of study that incorporates the 21st Century skills students would need as they move towards independent life in university and beyond. With these skills and a well-developed sense of optimism and integrity, students have the courage to question convention and think differently about the challenges facing themselves and our world.
We're not just a school; We're a Family. Each child is given individual attention, just as they would get at home. At Vadapalani Matriculation Higher Secondary School all the needs of the child are met with understanding and appropriate care, be it physical, emotional, intellectual or spiritual. The result is a school where the students are bright, confident and balanced individuals, both in work and play. They cherish the love and nurturing which they receive and respond positively.
In the years to grow we will expand in magnificent multitude leaving a spell bound effect. Our effective team of qualified teaching faculty work towards making the mission of the school happen. The teachers here adorn a multi faceted role – that of a facilitator, philosopher, guide, mentor and a constant learner.
In conclusion let me assert "Every good gift is from above and cometh down from god in whom there is no change."
Creative and innovative individuals of high moral character through the core values exposed by the school in delivering high quality education.
Our Mission
Vadapalani Matriculation Higher Secondary School aims to create a dynamic learning and growing environment for the children, in which every child can bloom into a good human being to realize his or her unique potential through holistic learning that integrates academic excellence with cultural heritage, social responsibility, and human values become a model global citizen.
Our Vision
Vadapalani Matriculation Higher Secondary School will be a leader in school education in preparing students for innovative, creative, and successful morally upright life in a global society.
Our Mission aligns with shifts in the global economy, society, and environment that is eager to embrace.
Our Correspondent Message
Dear Parents & Students
It is with great pleasure that I welcome you to our school website. As Correspondent. I am hugely impressed by the commitment of the school and the staff to the provision of an excellent all-round education for our students in our state of the art facilities.
Under my leadership, and as a team working together, we strongly promote academic achievement among our students. The cultural, sporting, and other successes of all of our students and staff are also proudly celebrated together.
With a long and rewarding history of achievement in education behind us, our school community continues to move forward together with confidence, pride, and enthusiasm.
We innovate and implement new strategies to be in sync with the time.
Want to join with our journey?